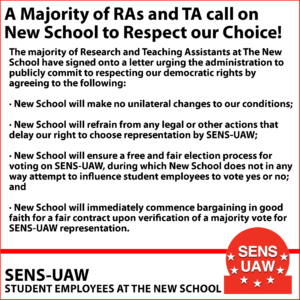 Today, a delegation of researchers and teachers from across campus delivered our open letter to President Van Zandt himself, demanding that The New School respect our choice on unionization. As we expect the National Labor Relations Board (NLRB) to restore our right to collective bargaining and hold a vote at The New School early in the Fall, this an exciting way to end the year. Thanks to everyone who came from across campus today.
In order to bargain significant improvements like other RAs and TAs across the US, it will be important to have a large turnout voting "yes" for SENS-UAW in the Fall. If you would like to help make plans for a big vote from your department, click here and we will be in touch to make plans over the summer.
Majority tell TNS to respect our democratic choice!