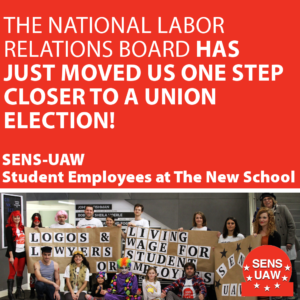 Great news! The National Labor Relations Board has just issued a decision on our unionization petition. They have remanded the case back to the regional NLRB to take "further appropriate action consistent with Columbia University," referring to the August decision affirming the right to collective bargaining for RAs and TAs. Based on this action, we hope the regional NLRB will process our case efficiently so that we can have a unionization election sometime early in the spring semester.
You can read today's full decision here. This is another huge win, for student employees at the New School and for graduate workers at private universities across the country. Congratulations to everyone who has worked so hard to get us this far!
Thanks to everyone who met, discussed, and signed onto our statement earlier this week to President Van Zandt. While today's NLRB action is good news, we need to remain mobilized and ready to not just vote yes in a NLRB election, but also to continue pressuring the administration not to stall the NLRB process and to fight as we move forward for a strong union contract.
We will be in touch as soon as we know more about next steps, most likely after January 1. Happy holidays!
NLRB takes action on our case!